Dear Friends and Colleagues,

The MEET Congress remains the European premier multidisciplinary endovascular gathering. Throughout the years it has brought together vascular surgeons, interventional cardiologists and interventional radiologists, aiming at building endovascular synergies.

For this year's edition we aspire to develop our most powerful and innovative scientific program yet. We are contented to have established the annual joint meeting of ISES and MEET that is going to be held for the second time on Thursday June 26th. This course aims at summarizing and updating the current knowledge about endovenous treatment and abdominal and thoracic aortic aneurysms.

Three whole sessions on Friday and Saturday will be focused on peripheral endovascular interventions in the lower limbs and the renal arteries. For the first time we will have a session entitled: "New Frontiers in Endovascular Procedures & Structural Heart Diseases", chaired by Dr. Alain Cribier and Dr. Roy Greenberg. Finally, Saturday June 28th will be dedicated to the MEET Carotid Course that will cover the technical and clinical aspects of carotid stenting and the latest clinical trials.

For the first time, in parallel, we are organizing the Nurses and Techs Course, especially tailored to satisfy the needs of your team. We encourage you to motivate your co-workers to attend this one-day course on Saturday June 28th.

The MEET official language is English. Since 50 percent of our attendees are French or Italian, we have decided to provide simultaneous translation in French and Italian.

Finally, the education delivered during the Friday sessions on peripheral endovascular interventions will be developed by the MEET Combo 2008 (book & DVD), focusing on the endovascular treatment of lesions in lower limbs arteries and aortic branches.

We are looking forward to welcoming you in Cannes, from June 26 to 29!

Don't miss it!

The MEET Directors
Global Attendance MEET 2007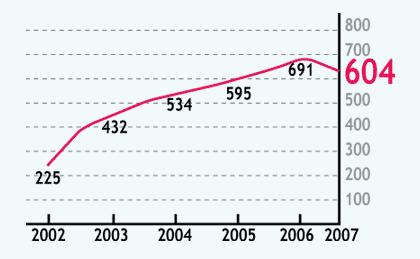 Target audience
We are inviting all vascular and endovascular specialists to attend the MEET 2008 Congress. The MEET 2008 program will benefit to all health-care professionals regardless of their level of expertise:

beginners, well-trained and experts.

- Physicians Angiologists and cardio-angiologists, Vascular and endovascular surgeons, Cardiac and cardiovascular surgeons,
Interventional cardiologists, Interventional radiologists, Conventional
cardiologists, Diagnosis radiologists,

- Neuro-surgeons and neuro-radiologists
Other actors Vascular nurses, Vascular technicians, Engineers and industrial managers
Educational Objectives
The MEET congress has been created by interventional cardiologists, interventional radiologists and vascular surgeons to deliver the only multidisciplinary continuing medical education on endovascular therapies. At the end of the MEET 2008, delegates will:

- Have recieved an updated knowledge in new treatment in valvular and structural heart diseases,

- Be aware of standard & new endovascular techniques to treat carotid artery stenosis, thoracic and abdominal aortic aneurysms, thoracic aortic dissections, lower limbs arterial lesions and renal artery stenosis,

- Know how to manage polyvascular patients with the help of a collegial multidisciplinary team,

- Know how to cope with vascular emergencies and when to indicate an endovascular technique,

- Know the most recent data from national and international trials, registries and studies,

- Be able to identify the most appropriate indications for the most appropriate technique and device,

- Have become suitable candidates to follow practical trainings in small audience courses,

- Be able to train themselves and practice in experts' angio-suite, cath-lab or operating theatre,

- Know how to prevent procedural complications and how to face unforeseen neurological or vascular complications during carotid and aortic endovascular procedures,

- Receive didactic tools, such as the PDF copy of all scientific sessions and the copy of the all live video cases specially elaborated for the MEET Congress 2008, allowing them to continue their medical education in their everyday practice,

- Know all the necessary information to start an endovascular program in his/her institution.